Message from the President
A company's sphere of activity is expanding dramatically today. Not only call centers and office centers but also various other functions that support corporate activities, even head office functions, have relocated overseas to the Asia-Pacific region and other areas. At the same time, the Asia-Pacific region, with which Japanese companies have historically held deep relations, is undergoing rapid change. It is developing steadily, not only as a high cost-performance production base but as a high-tech industry center as well. Backed by the spirit of entrepreneurship, the Asia-Pacific region is also developing steadily as a base for the creation of new industries.
The mission of the Asia Pacific Research Institute of Marketing (APRIM) is to contribute, in the field of marketing, to the nurturing of leading companies active in the Asia-Pacific region, an area expected to develop as it experiences even greater changes.
Marketing is a practical academic field. Marketing theories are formed from actual business management, developed into actual practices and further refined. It is a dynamic domain that will continue to evolve so long as innovation is always present at the site of business. It is our desire to work together with companies to pursue the creation of new value in this dynamic and extremely practical area of business administration, called marketing.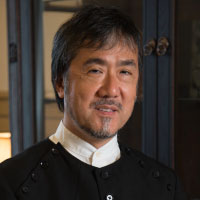 Eiichi "Eric" Kasahara,
Ph.D.
President
Asia Pacific Research Institute of Marketing (APRIM)